I've had this Spirit Trail Fiberworks fiber since 2011, my first year at Rhinebeck. I don't recall having a plan when I snapped up the braids, but when I took stock last year, I had 4 braids of Polwarth/Silk, a braid of Merino/Cashmere and a 100% Superwash BFL all in similar shades of blue. That's 24 oz of fiber!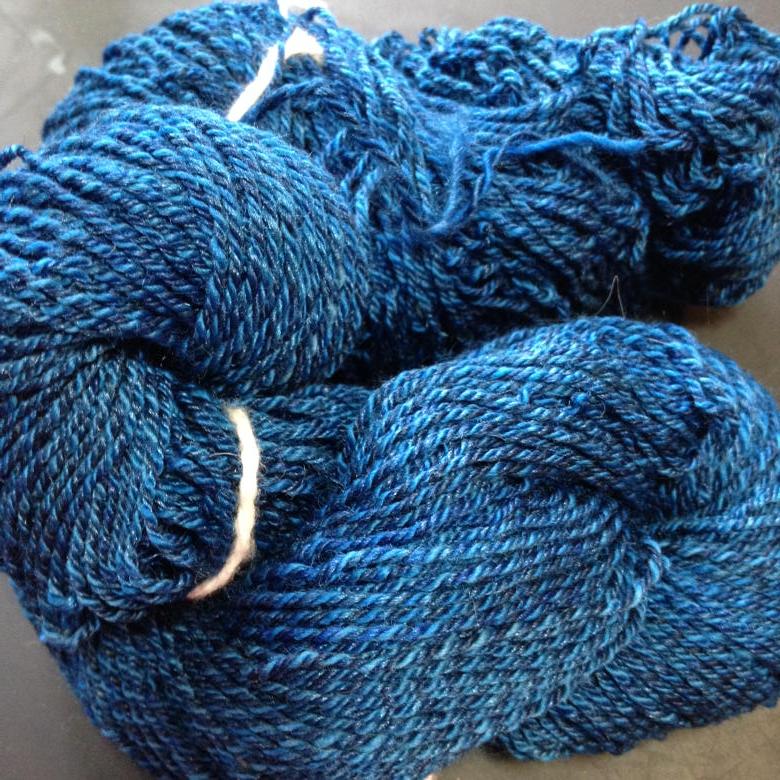 Lighter Merino/Cashmere single in this skein.
I began spinning it up last year but then life got in the way. I picked it up again in May and finished spinning all the singles, then began to 3 ply them. To balance out the slightly different colors (the cashmere blend was considerably lighter), I decided to ply 2 strands of the Polwarth Silk with the Cashmere blend, then 2 strands of the Polwarth Silk with the BFL. When I knit it up, I can alternate skeins to even out the color.
Jumbo skein
I started plying on my regular Lendrum flyer and soon filled up a bobbin that way. Then, I decided to try out a tip I'd garnered from Ravelry to make plying with the Lendrum Jumbo Head easier. And it worked (more on that in another post). So I finished plying on the Jumbo Head, which resulted in a 797yd, 13+oz skein!
After plying up the remaining singles, I ended up with a grand total of 1226 yards of 3 plied yarn. That should be enough for a lacey cardigan.